LAS VEGAS CONVENTION
40th Trek Anniversary
August 16-20,2006
The Hilton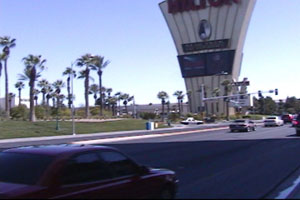 The Hilton convention site.
The Hilton convention site was within walking distance of our hotel The Sahara.
The Stratosphere. A marker for us to use.
Posters at the convention center.
Hey! Down in front!

The auditorium where the stars appeared.
A life-sized bridge where fans could get their pictures taken.
More convention scenery.
Robert Culp is a real down-to-earth, fan friendly star with a good sense of humor.
Farscape actress Virginia Hey and Richard "Jaws" Kiel
Jaws was great with the fans and had his other movie posters on display also.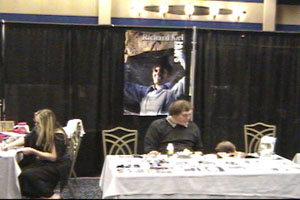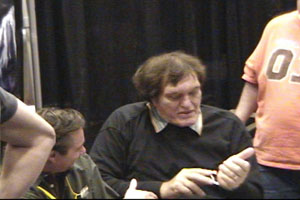 Bob May from Lost in Space

Bob May brought the Robot to life.
Danger! Danger! Will Robinson; where are you?!
Howdy from Las Vegas!
Larry showing our stuff at our Farce Trek table.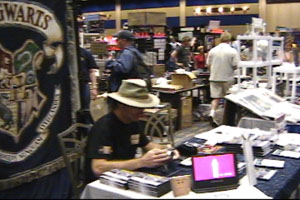 Larry at our Farce Trek table.

Laurel at our Farce Trek table.
Larry at our Farce Trek table.

Laurel in indian costume from Paradise Syndrome on Friday.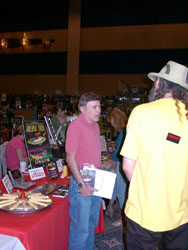 Walter Koenig at Grease Trek table.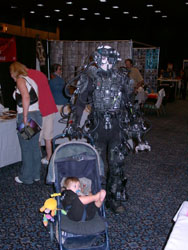 Borg has baby!!!
Laurel in Mirror, Mirror outfit on Saturday.

Wow!! Mirror, Mirror! (which one is good and which one is bad?)

Making new friends.

Aliens among us.

Captain Kirk from the same altered universe.

Fascinating!

More of the crew.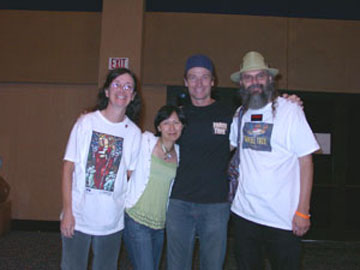 Laurel, Sue, Larry, and Jason at the end of the convention.
Sue is Jason's wife. Jason and his brother Scott are the master talents behind the slick, live-action, parody "Grease Trek".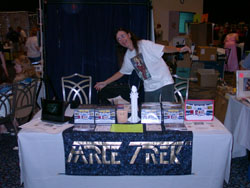 "Falling" into work on Sunday.